What Kind of Help is Available
Approximately 90 percent of people with depression can be treated successfully with medications, psychotherapy, or other treatment options.
Developing the right treatment plan for you or a loved one should be done in partnership with a mental health professional and based on an individual's needs and medical situation. Research shows that the gold standard treatment for serious depression is the combination of appropriate medication and talk therapy.
Medication
Depression is a medical illness and medication may play a part in treatment. There is no one "best" medication for depression because each person has different symptoms, history, and responses to medicines. There are several different classes of medication that may be used to help treat depression. A medical professional can help you determine ways to get started with medication or make adjustments to what you are currently taking.
To learn more see the National Institute of Mental Health "Mental Health Medications" page.
Talk Therapy
Talk therapy, counseling or psychotherapy are all terms used to refer to a treatment that helps with emotions, thoughts, and behavior. More than just "blowing off steam" or "airing grievances," working with a trained mental health therapist can help someone better understand their thought patterns, cope with stress, and make change. Studies have shown that engaging in a well-researched psychotherapy, such as Cognitive Behavioral Therapy, is a critical part of recovering from depression and preventing depression relapse.
To learn more see the National Institute of Mental Health "Psychotherapies" page.
For more about psychotherapy for Treatment Resistant Depression, please download this PDF.
Neuromodulation or Brain Stimulation Therapies
Brain Stimulation Therapies are sometimes considered for people who have not responded to the standard treatment of medication and talk therapy. Some neuromodulation treatments have been successfully used for many years, some are newer FDA approved treatments, and some are available only to people participating in clinical trials.
To learn more see the National Institute of Mental Health "Brain Stimulation Therapies" page.
Research Studies
Researchers are actively working on the development of new and effective treatments for depression. Clinical trials are research studies testing new treatments for depression with volunteer patients. To see what studies are available at Emory University and throughout the country, see the links below.
Complementary Treatment
There is evidence that exercise, meditation, and doing activities can work well with depression treatments. To learn more see the National Center for Complementary and Integrative Health "Depression" page.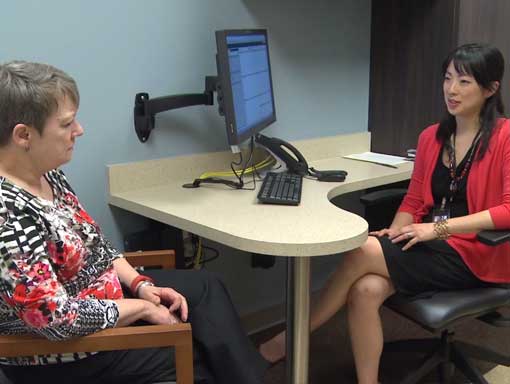 Did You Know…
Although they comprise only 12 percent of the U.S. population, people age 65 and older accounted for 16 percent of suicide deaths in 2004.
– CDC, National Center for Injury Prevention and Control.
Web-based Injury Statistics Query and Reporting System (WISQARS) [online]. (2005) [accessed January 31 2007]